Travel tips
Here we'd like to recommend you nice places and services in area "West Ore Mountains". We have visited the listed sights personally and left them with very good experiences.
View-tower on Tisovsky vrch – "Pajndl"
At the top of the hill Tisovsky vrch stands a 24 m high stone tower. Its gallery is at 1000 m above sea level. When you get over the 111 stairs of winding staircase, you will see one of the most beautiful views – the highest mountain of the Ore Mountains Klinovec, Slavkov Forest and Doupovske Mountains and the whole Ore Mountains region.
You can see even the Sumava hills in the distance by good visibility. The tower was built in 1897 by Nejdecko association. It is open during the whole year and admission free.
How to get there?
On foot: following the green tourist route it takes 1 hour
By bike: there is the trail no. KCT 2006 under the top of the hill
By train: to the Nejdek – Tisova station and continue on the yellow tourist route (the last third of the way is unsuitable for strollers and pushchairs) or to the station Nejdek – Sejfy and continue following the yellow tourist mark (this route is also suitable for bikes and strollers).
By car: to Tisova and continue on the yellow tourist trail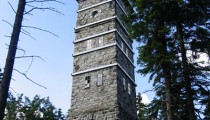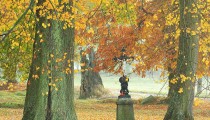 Vlci jamy
Nature trail Horni Blatna – Vlci jamy will take you to the remains of tin mining in surrounding of Horni Blatna. One of the seven stations is an ice pit. There lies ice and snow in the pit even in hottest summer thanks to its microclimate. Zitina tower, which stands on top of the Blatensky vrch, is also part of the trail.
How to get there?
By bike: through Nove Hamry to Horni Blatna to the view-tower (the ice pit is about 200 m from the view-tower)
By car: there are 2 possibilities – parking on the square in Horni Blatna or at the wiew-tower and go through the whole nature trail
By train: from Nejdek to Horni Blatna station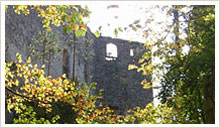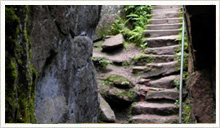 Chaloupky and Prebuz
In the village Chaloupky stood 82 houses in the first half of 20th century. These houses aren't there anymore. They were torn down shortly after the World War II. Only grounds remain after the willage.
When you sit in the grass for a moment on your walking tour or biketrip, you will feel the peace in the idyllic valley Rolava. Chaloupky are thanks the beautiful nature very popular for cycling and skiing.
How to get there?
On foot by train to Nove Hamry and then about 6 km on foot to Jeleni (after 3 km turn left)
By bike: bike trail no. KCT 2006
By car: parking about 3 km behind Nove Hamry or parking in Prebuz